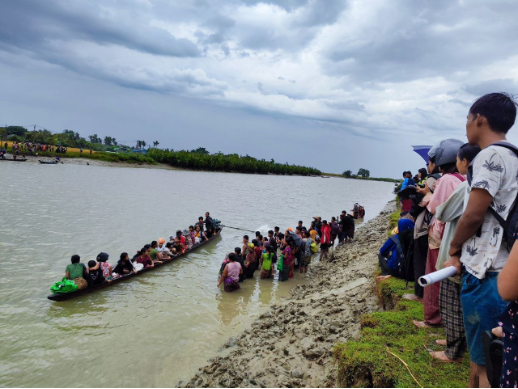 The number of displaced people in Arakan State continues to rise in the face of fierce fighting between the Myanmar Army and the Arakan Army (AA).
According to available statistics, more than 40,000 people have been displaced.
On 16 November, more than 25,000 residents of Pauktaw fled to safety after the military fired small and heavy weapons from the air and sea.
The residents of Pauktaw said they had to flee without being able to take anything with them for fear of being hit by the military's weapons.
One person who fled Pauktaw said, "I didn't even get to eat rice. Fifteen people fled on four motorcycles. Our clothes are soaked from the rain. We don't know what to do next. We want international organizations to provide help."
In Ponnagyun Township, around 15,000 people from 10 villages, including Kyauk Seik, Tan Khoe, Kyaw Zin, Kywe Htoe and Nat Seik, also fled to safer areas for fear of artillery shelling.
The Battalion-550 stationed in Ponnagyun has been firing artillery every day. The locals have fled because they fear that the naval ships sailing the Kaladan River will fire small and heavy weapons.
"We fled by boat. The river was rough and wavy. We are also afraid of the navy. We had to flee just to stay alive. We couldn't take much food with us. We don't know how we will survive," said Daw Than Htay Chay, who fled from Tan Khoe village in Ponnagyun Township.
In addition, more than 1,000 people from Jadechaung, Wet Kyine and Taman Thar villages fled to nearby villages on November 13 due to fighting between the AA and the Myanmar Army.
The displaced people are in urgent need of food, clothing, shelter and medical assistance.
"We only have the clothes we are wearing now. And they are all wet from the rain. At the moment, the villagers here have prepared as much food as much as they can. But in the long run, it will be very difficult," said a displaced woman from the village of Manaw Thiri in Pauktaw Township.
Among the displaced are children and elderly people, whose health is a concern as heavy rains continue throughout Arakan State.
On 16 November, a seven-month-old girl died of a cold among 500 displaced people from Done Nyo village in Maungdaw Township.
Since the fighting began in Arakan State on 13 November, the military junta has blocked roads and waterways, making it difficult for international and humanitarian organizations to carry out humanitarian work.
Sent by DMG.