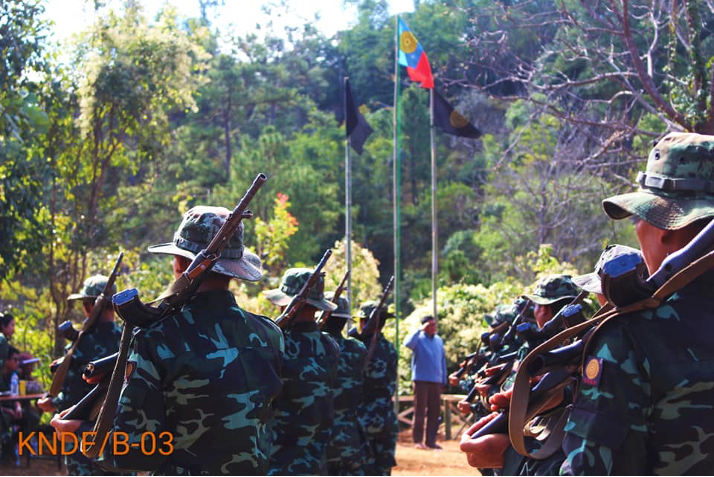 An interview with an official of KNDF's Battalion-03
For the past three months, fighting between Myanmar Army troops and the People's Defence Forces (PDFs) has been taking place on the border between Pekon and Pinlaung townships in Taungggyi District, Shan State. Fighting between the two sides has raged since 24 February of this year, with the military council stepping up its airstrikes.
In this interview with the Shan Herald, an official from Battalion-03 of the Karenni Nationalities Defence Force (KNDF) spoke about the difficulties and challenges of protracted fighting and how they are overcoming those challenges.
Q – Can you update us on the current situation of the fighting on the ground?
A – The fighting is still intense. It's been about three months now. Fighting escalates and clashes occur every day. Most of the fighting has broken out in Tawngmethin, Nam Neint and Salong (South) areas these days. The Myanmar army has deployed more troops, but both sides don't have a decisive advantage over each other. At the moment the fighting has spread to Salong (South) and Salong (North). There is heavy fighting throughout Karenni State, in Pekon, Pinlaung and Moebye. Sporadic clashes break out like every day.
Q – What are the difficulties and challenges now that the fighting has been going on for a long time?
A – The longer the fights go on, the more difficult it becomes to get weapons and ammunition. We have guns, but not enough ammo. Our comrades are exhausted. This is partly due to the sounds of the onset of the rainy season. They're also overtired from the stress and fatigue that war brings. A crucial need is logistical support. In terms of logistical support, there is a lot of need. We can't get full meals. Some days we only have one meal, other days we have two. Sometimes we only eat breakfast. Cooking in the jungle between rain and sunshine isn't always easy. We comrades do it ourselves, depending on the situation. We cook when we can. Otherwise we have to act according to the circumstances.
Q – Why is the fighting going on for so long?
A – We're trying to stop Myanmar Army troops from entering this area. I've no other personal opinion about that. We try to deter them as best we can. We just keep resisting the junta's troops. The situation will calm down once the junta forces leave. At the moment, the fighting is being fueled not only by the junta forces, but also by the Pa-O National Organisation (PNO) militias. As far as we know, there are about 200 PNO members for every 100 soldiers. They have joined forces and fight side by side. The fighting continues because they have increased their troops.
Q – How many times have they attacked with planes?
A – Some days their planes come and fire even before the fighting starts. In the past, they sent out fighter jets even during fierce battles. The Myanmar army is suffering from the fighting as the war rages on. That's why they send up to five fighter jets on some days. They have attacked hospitals, churches and villages with airstrikes. They have commited various atrocities. They even dropped bombs in places where there was no fighting. Sometimes they drop bombs all day. When they come, they come with five planes.
Q – How many casualties and damage have been caused by the airstrikes?
A – There were casualties in our area. There is damage from heavy weapons. We don't need to worry about it though. They weren't seriously hurt. However, many civilian houses were damaged or destroyed. In the Tawngmethin area most of the houses burned down. Schools and clinics were also damaged. A church in a remote village was completely destroyed. Some people were also injured. A two-day-old baby and his mother were killed in the hospital bombing. Many people were injured and their property destroyed. In some cases, mothers were killed by artillery fire and their children were left.
Q – How many civilians have been arrested by the military council?
A – We've also captured junta soldiers. We caught them alive three times. The junta arrested civilians and used them as human shields. When they withdrew from the Nam Neint area, they took four people with them as guides. They killed one of them. We saw the other men being placed in front of their column with their hands tied.
Q – What could happen next?
A – I think the fighting could continue to intensify.
Q – What else would you like to add?
A – It's important to note that we're fighting not only for our state, but for the liberation of our country as a whole. That's why I'd like to urge people to continue to support us. We have to sacrifice our lives and the youth are now exhausted. But we still pull ourselves together. Please continue to support us. Stay strong. I'd urge the news media to get the message across that it's important that the military dictatorship be brought down from power as soon as possible and that the youth have to make great sacrifices.
Sent by Shan Herald.