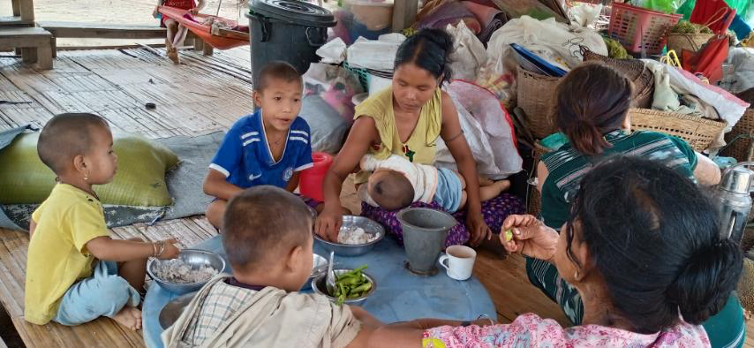 Internally displaced persons (IDPs) in Kyauktaw Township in Arakan State affected by Cyclone Mocha have not received any relief yet after ten days since the storm hit the state, IDPs said.
"They have no place to live and nothing to eat. Rebuilding will not be easy. None of the aid groups have inquired about the situation or provided assistance. We don't even know what to start with. The clinic, houses and toilets are all gone. People are currently living in makeshift tents made of tarpaulins on the ground," said Ma Aye Khin, in charge of the Taung Min Kalar IDP camp.
The 14 May storm caused devastating damage to most IDP camps in Kyauktaw Township. Among them is Taung Min Kalar camp, where more than 500 people live.
In Taung Min Kalar camp, houses, a clinic, a school and toilets were destroyed beyond repair, she said.
Most of the houses and structures in War Taung IDP camp with more than 40 families of IDPs, located near Taung Min Kalar camp, were also devastated by the storm and they need shelter and food, said a camp official.
"All the houses were destroyed. Right now, they are living in temporary tents with tarps. Some groups have come and checked on the damage, but they have not yet shown up with relief supplies. The displaced need shelter and food. The price of rice is also increasing exponentially at the moment. Since they don't have jobs, they cannot afford to buy rice," he said.
In addition, the houses and toilets in Nyaung Chaung IDP camp, where more than 3,000 people live, were also destroyed by Cyclone Mocha, leaving the IDPs to live on the bare ground, said Ma Aye Thein Nu of IDP Camp.
"The houses have been destroyed beyond repair. They have to cook on the bare ground without proper shelter from the rain. They are in desperate need of food. They don't have adequate supplies. And they haven't yet received relief supplies. They have no place to live and cook in. Those whose homes have been destroyed have had to seek shelter in monasteries. They have been plunged into even greater misery," she said.
In addition, houses in Mahar Kangyi Shin, Railway Station, Kawi Yadana, Myoma Kyaung and Nay Pu Khan camps were also destroyed and the displaced people are in need of assistance, according to people in charge of the camps.
They added that the prices of basic commodities, including rice, have increased exponentially, making it difficult for them to buy.
Most IDPs are currently in a difficult situation and have not received assistance from the government or other groups.
Following the powerful cyclone Mocha, villages in remote areas are in urgent need of assistance, in addition to the IDP camps in Kyauktaw.
Sent by Narinjara.