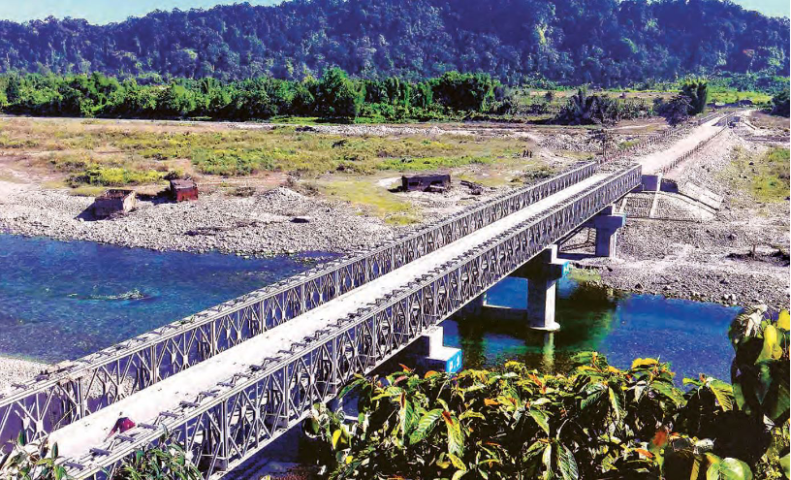 Fear is growing among residents of Tanja village in Puta-O Township that they may be abducted as human shields by advancing Myanmar army and Rawang People's Militia troops.
The incursion of junta troops and Rawang militia into Tanja village in Longshayang village tract has caused concern among residents.
Although Tanja villagers had planned to start their agricultural work in the first week of May, they were forced to stay indoors by the growing fear of the approaching military columns, said one of the residents.
"We are scared. Most of the villagers were preparing to start agricultural work yesterday. The presence of these troops in the village has caused them concern. The villagers are too scared to go out or go about in the street," he said.
According to reports, the joint troops have advanced from Puta-O and have been staying in the forest for about a week, according to residents.
The joint force of the Myanmar army and Rawang militia arrived at the Manau ground in Longshayang village on 22 May and has been stationed in Tanja village since 10 am on 23 May, villagers said.
The villagers further said that the junta soldiers are patrolling around the village in full military uniform. This has fueled fears among residents that they could be taken away and used as human shields if fighting breaks out in neighboring villages between the regime's forces and those of the Kachin Independence Army (KIA) and People's Defense Forces (PDF).
"In particular, they fear that they could be taken away as human shields. The KIA and the PDF are already in the east of the village. So they (the junta soldiers) could inquire about the resistance activities and force us to lead to their positions. So far, the situation is calm," said one resident.
Villagers reported that the junta's more than 60 soldiers have even taken up positions in civilians' homes in Tanja village and no one dares to leave their homes because of the junta soldiers' presence in the village.
The regime's column currently stationed in Tanja reportedly consists of troops from Light Infantry Division 138 and others from the Rawang People's Militia who had attacked Tanja village with bombs in the third week of May, according to residents.
On 18 May 18, the KIA-PDF force clashed with a junta column advancing towards Tsumpiyang village near Wadat village.
KIA and PDF forces are usually present in Tsumpiyang, Tanja, and Longshayang villages, which has often led to clashes with Myanmar army troops in neighboring areas.
Sent by NMG.