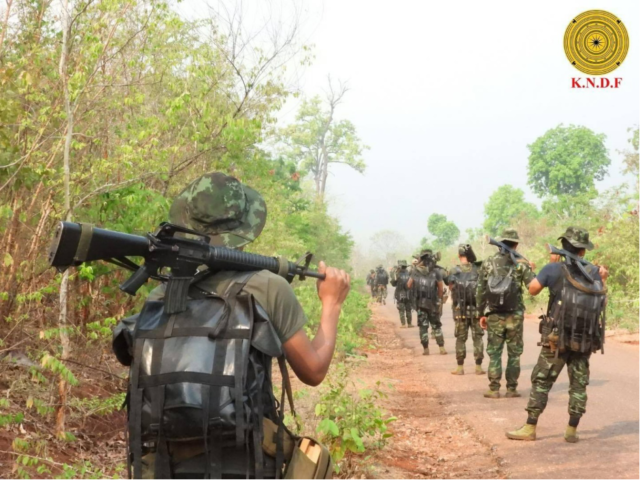 The Myanmar army has been conducting heavy offensives in eastern Demoso Township in Karenni (Kayah) State across Loikaw and Bawlakhe Townships since 9 March this year.
In a relentless attempt to control the strategically important Loikaw-Demoso-Bawlakhe road, the military council has deployed both excessive ground and air forces, and fighting is expected to increase, said Khu Reedu, military chief of the Karenni Nationalities Defense Force (KNDF).
"Once they are able to take control of the east of Demoso, I am sure they will be able to establish a direct line to Bawlakhe. That will also give them direct access to Hpruso and Shadaw. So now they are trying to capture the main route with a large number of troops. The fighting will only get more intense. We have no choice but to defend ourselves and counterattack. The fighting will only get more intense," Khu Reedu said.
The Loikaw-Demoso-Bawlakhe route is an important route for transporting reinforcements, weapons, ammunition and rations. Currently, combined forces of the KNDF, Karenni Army (KA) and People's Defense Forces (PDF) are engaged in almost daily skirmishes with advancing columns of the military council.
Khu Reedu further said that the Myanmar Army's three battalions – IB 287 and LIBs 513 and 517 – have advanced to Tani Lar and Kan Kha Na Sint villages and the ridge near Dawtangu village, starting at Sanpya 6 Mile in Loikaw and Demoso.
Fighting reportedly intensified again between combined resistance forces and advancing junta troops in the mountains near Tani Lar village. Air strikes were flown by the regime during the fighting on 15, 16, and 17 May, damaging some civilian homes.
"One of our comrades and a member of KNDF were killed by the evening of 16 May, 4-6 comrades were injured," said Khu Nye Reh, Interior Secretary of Karenni State Administration Team.
KNDF military chief Khu Reedu said the junta was conducting offensives with five battalions in Dawngaykhu and Dawtamagyi areas via Bawlakhe and with eight battalions in eastern Demosos.
In March, regime forces advanced as far as Dawtamagyi village but withdrew to the Dawngaykhu ridges after being attacked by combined resistance forces. However, on 2 May, regime columns began their advance again into the Dawtamagyi village tract and captured positions in Dawngaykhu and Dawsohpya villages.
During two months of fighting between the junta forces and the combined Karenni forces, the regime resorted to air strikes that damaged houses and hospitals.
"They already have artillery support on the ground. Sometimes we are surrounded by three or four columns of the junta. Recently, they have also requested more air support. This shows that they are losing ground in the ground fighting," Khu Reedu added.
On the other hand, the regime is using combat helicopters to transport injured soldiers, send reinforcements and deliver rations, said a KNDF official in charge of information.
"As far as I know, they have been resupplying rations, weapons and ammunition, and reinforcements in the last week of April. There were frequent flights. It could be that they either transported some of their personnel between the base and Loikaw, or weapons and ammunition, or rations," he said.
Weapons and ammunition were seized and regime soldiers killed in an attack by combined resistance forces on regime troops in eastern Demoso.
According to the KNDF military chief, some 100 weapons were seized in March and April, including RPG7, 60-mm mortars, long rifles, handguns, MA -15, MA -4, 3, 2,1 and pistols. In the past two years of fighting against the military council troops, most of the weapons and ammunition were seized in the last two months, he said.
There were reportedly casualties on both sides in the fighting in eastern Demoso, and junta casualties included even commanders and junta officers up to the rank of lieutenant colonel.
According to a recent statement from KNDF Brigade 5, one junta soldier was killed and others injured when regime troops stationed in Thaysule village were attacked by the KNDF in western Demoso Township.
Sent by Kantarawaddy Times.