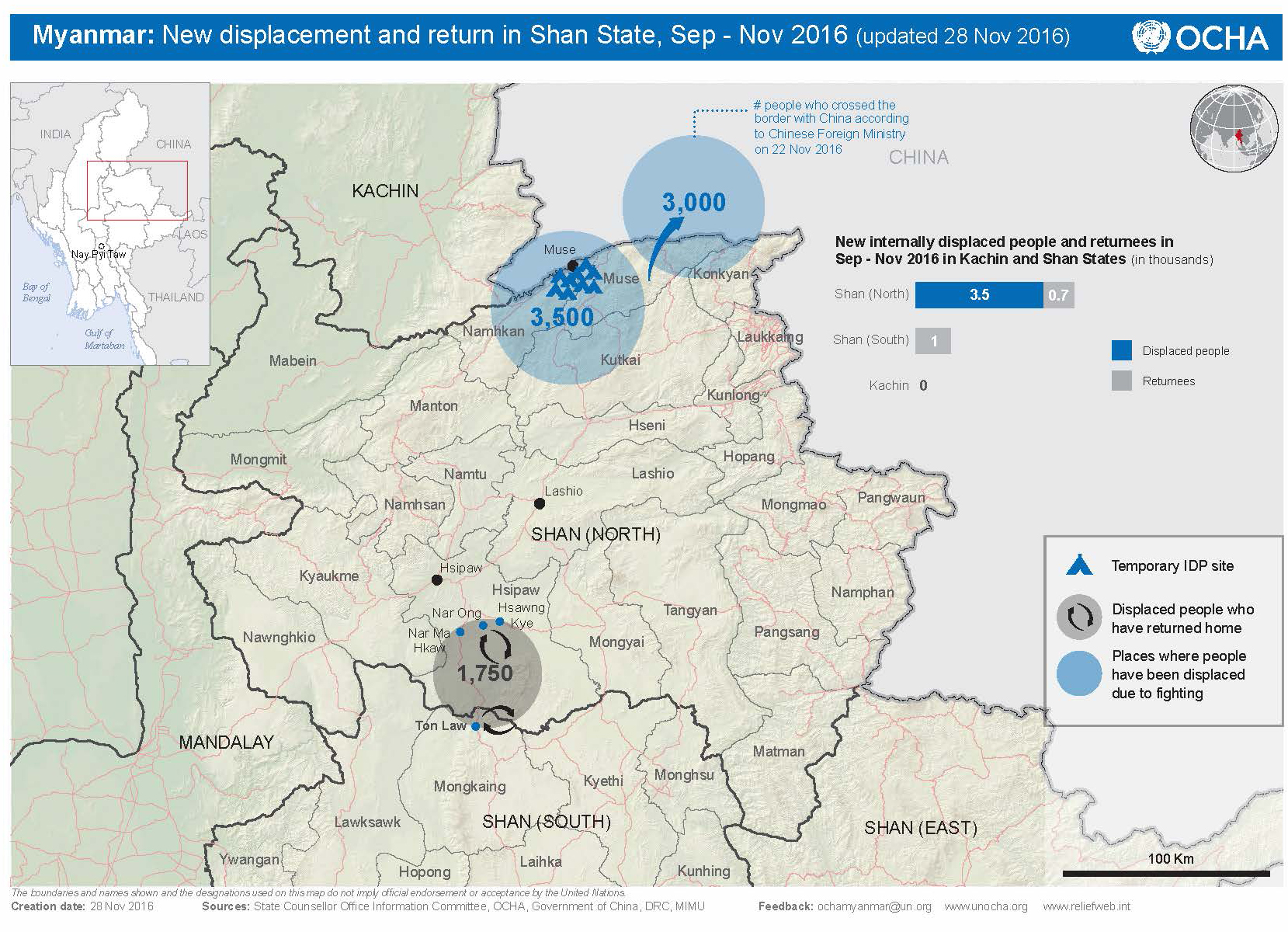 Resource: MMR Displacement resturn SHAN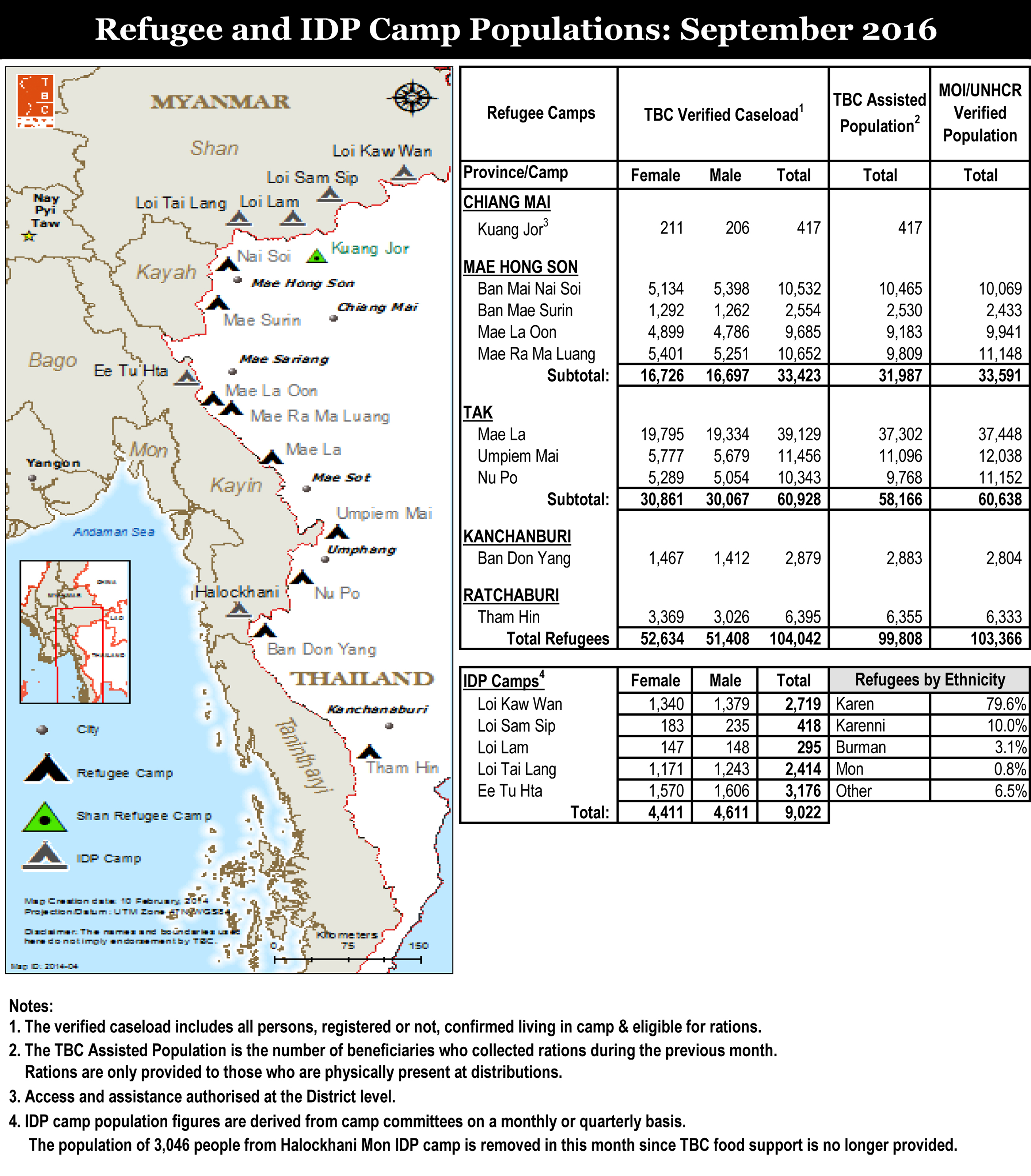 Resource: Refugee and IDPs camp population
Myanmar Refugee and IDP camps: 2015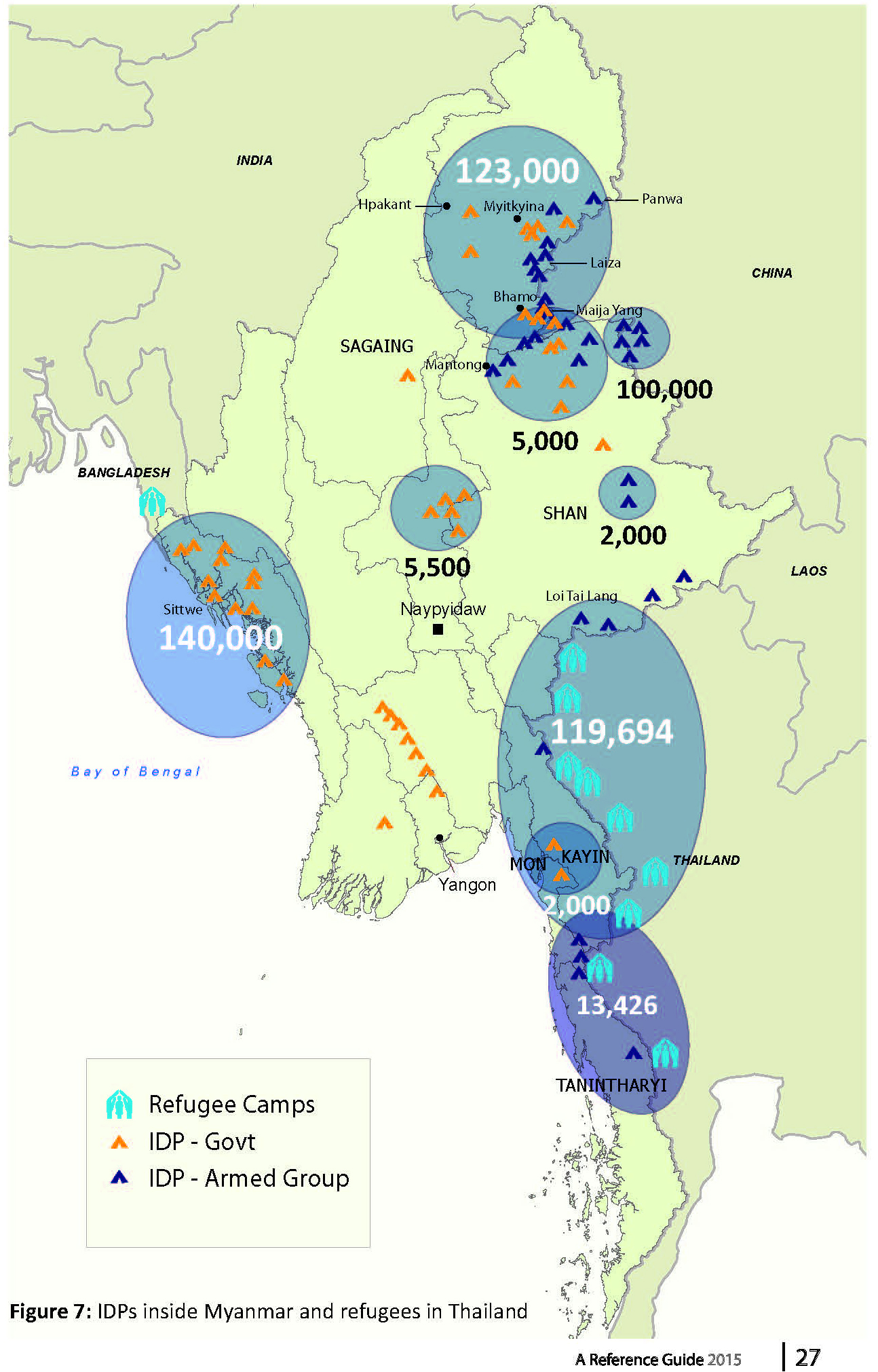 IDPs inside Myanmar and UNHCR−recognized refugees abroad (2014)
No

Area

Refugees/IDPs

1

Kachin state

Over 90,000 (OCHR, 2014)
100,000 (UNHCR, 2014)

2

Northern Shan state

About 100,000**
(including IDPs in Kokang region)

3

Southeast Myanmar




(Thai-Burma border)

230,000 (UNHCR, 2014)

4

Meiktila

About 5,000

5

Rakhine state

About 5,000

6

Bangladesh

30,000 (Registered)
estimated 200,000−300,000
(unregistered) (UNHCR, 2014)

7

India

8,306 (UNHCR 2014)

8

Malaysia

42,309 (UNHCR, 2014)

9

Thailand

110, 607 (TBC, DEC 2014)

10

UNHCR

recorded

IDPs,

Refugees,

Stateless, Asylum Seekers in2014
IDPs 374,000
Stateless 810,000
Refugees 479,706
Asylum Seekers 48,053

IDPs/Refugees
Ongoing armed clashes and communal violence have created new IDPs and prevented the return to their homes of those displaced during previous years. The Internal Displacement Monitoring Center (IDMC) estimates that there are up to 642,600 IDPs in Myanmar, who were forced to flee their homes by armed conflict and inter−communal violence. Of these, according to the IDMC, up to 400,000 are living in Shan, Kayah, Karen and Mon States and Bago and Tanintharyi Divisions; over 98,000 in Kachin and northern Shan States; around 140,000 in Rakhin State; and 5,000 in Mandalay Division.41
Rakhine State: According to OCHA reports of January 2015, there are 146,524 IDPs still living in camps in Rakhine State, while the UNHCR reported in 2014 about 140,000 IDPs in this State. They are victims of the communal violence which broke out in 2012 and which resulted in the death of over 200 people amongst Rakhine and Rohingya communities. The UNHCR and other INGOs have provided shelters, food and medicine. However, the IDPs in the camps face hardships such as lack of health−care support and children's education. Rakhine and Rohingya communities continue to fear each other and their mutual mistrust prevents harmony between the two communities. President Thein Sein has approved the expenditure of 2 billion Kyat for IDP resettlement projects. The first step will be to build houses for them.
Meikhtila: Over 3,000 IDPs are still living in five camps in Meikhtila township of Mandalay Division. There were about 8,000 IDPs in Meikhtila after communal violence broke out there in March 2013. A resettlement committee composed of the regional government, local authorities, private donors and IDP representatives was formed after the incident in 2013. The Chief Minister of Mandalay Division approved a resettlement plan proposed by the resettlement committee in 2014. Since then, the Mandalay Divisional Government and local authorities have built houses in the township for resettling the IDPs. Local authorities made available 220 houses in August 2014.42 A further 350 houses were occupied by 350 families on 19 August that year.43
Kachin State: According to the OCHA, there were in excess of 90,000 IDPs in government− and KIO−controlled areas of Kachin State in 2014, the UNHCR reporting about 100,000 Kachin IDPs in the State itself and adjoining areas. Alhough there was a reduction of armed conflict in the State between the KIA and government forces, outbreaks of fighting nonetheless persisted. Therefore, most IDPs were afraid to return home, although a few did so. Clashes between KIA and government forces, in the Hpa−kant area in 2014 and Tanine township in early 2015, created a further 3,000 IDPs. These people have been living in conditions of great hardship from lack of food, medicine, shelter and absence of work to provide income. Their children are missing out on education because there are insuficient schools and educational materials. The UN and other INGOs attempted to send them humanitarian assistance but the government forces refused permission.
The Kachin State Government built houses for IDPs in Ngwe San Pyaw village in Myitkyina. Over 100 new houses in Ngwe San Pyaw village were transferred to Kachin IDPs in May 2014. This was a result of the formation that month of the Joint Conflict Resolution Committee composed of 5 members each from the KIO and the Government. According to Kachin State Social Welfare Minister, Daw Bauk Ja, the Kachin State Government would return 33 families to their homes at the end of August that year.
192 IDP families from Sein Lon Kabar, Sein Lon Kagyi and Pan Mu villages in Moemauk township in Kachin State returned home on 11 October.44 An outcome achieved by the Joint Conflict Resolution Committee (JCRC) meeting held on 3 October. Both the Union Government and the Kachin State Government delivered assistance to the returning IDPs.
Shan State: IDPs are living in camps in areas controlled by the Government and in those under the control of the ethnic armed forces. In the course of the year, armed conflict created new IDPs in northern Shan State where a significant amount of fighting occurred. There is no ceasefire accord between the TNLA and the Government, which helps explain the frequent clashes in this sector. According to the Ta'ang Women's Organization (TWO), there are at least 3,000 IDPs in the Ta'ang area of northern Shan State.
Additionally, the SSPP and government forces in northern Shan State fought one another despite a ceasefire agreement. Government forces launched an offensive against SSPP camps near Tapha Soung bridge in Kehsi township in early October. The fighting lasted five days and resulted in the flight of at least 2,500 villagers. Government forces took control of the SSPP camps after heavy fighting. A series of ceasefire talks between the SSPP and government oficials resulted in the SSPP evacuating its camps and the cessation of hostilities in Kehsi township. Thereupon the Shan IDPs returned home.
The MNDAA is a newly resurrected group. It was the first ethnic armed group to sign a ceasefire agreement with the previous military regime, in 1989. The Kokang region became known as Special Region One and was favored by the military regime during a long ceasefire period. However, when in 2009 the military regime ordered the MNDAA to transform its forces into a BGF, the MNDAA refused. Government forces then attacked and captured Laukkai, the capital of the Kokang region. Peng Jiasheng went underground and regrouped his troops. The MNDAA struck back at government forces based in Laukkai on 9 February 2015, and since then fighting has taken place almost every day. According to mainstream media reports, this has boosted the number of IDPs in the Sino−Myanmar border area to about 100,000. Some fled to Lashio, the capital of northern Shan State. Armed conflict is still occurring at the time of writing. IDPs in the border area face hardship from lack of shelter, food, medicine and schools for children.
Karen and Mon States: There was no heavy fighting between KNU and government forces in 2014, but in September and October DKBA columns led by Col. Saw San Aung fought government forces in both Karen and Mon States. This created an additional 2,000 IDPs in these States. Luckily, the fighting only lasted a few weeks, and then these IDPs could go home. According to a UNHCR report, there are 230,000 refugees living in Thai camps while some thousands of IDPs are living in the border area of Myanmar. After Karen armed groups and the Government signed ceasefire agreements, a few Karen refugees returned home. Some resettled in the Kyauk Kyi project area which was provided by INGOs. Also, the KNU has built houses in Karen State to resettle its members' families plus some other refugees. However, most refugees living in the Thai camps do not want to go back home. One reason is that they are at risk from undiscovered landmines in their old village areas. Another reason is that Myanmar army, which experience has taught them to fear, is now deployed in their area. Oficially−recognized refugees as well as IDPs are afraid that government soldiers will continue to commit human rights abuses.
UNHCR's global report on Myanmar 2014 − 2015:
● In Myanmar, inter−communal tension remains high with almost 140,000 people still displaced in Rakhine State. The fragile protection environment and efforts to promote coexistence and reconciliation will need significant support in the year ahead. UNHCR will work in close collaboration with the UN Humanitarian Country Team (HCT) to achieve durable solutions.
● Over 800,000 persons are estimated to be without citizenship in the northern part of Rakhine State. In addition, the majority of the internally displaced people (IDPs) are also believed to be without citizenship. UNHCR is advocating for steps to address the obstacles tocitizenship.
● Fresh displacement was witnessed in 2014 with continued clashes between the Myanmar national army and non−state groups in Kachin and northern Shan States. UNHCRispartoftheinter−agencyresponsetointernaldisplacementinKachinState and northern Shan State, as well as Rakhine State, addressing the needs of more than 240,000 internally displaced people (IDPs). In Kachin State, the Government limits humanitarian agencies' access to IDP sites and aid organizations must seek permission to access areas not under government control.
● An agreement to reduce hostilities in Kachin State between the Government and the Kachin Independence Organization (KIO) has potentially opened the way for further peace efforts. Some 100,000 people are displaced. International humanitarian organizations have direct access to IDPs in government−controlled areas and local partners have played a vital role in ensuring that humanitarian assistancereachesIDPsinotherareas.UNHCRwillworkwithintheUNinter−agency response, undertaking protection activities and assistance within its cluster remit. UNHCR will also support the HCT's promotion of durable solutions.
● It is estimated that over 230,000 IDPs remain displaced in the southeast of Myanmar, in areas where UNHCR is operating. Engagement by the Government and other parties to find solutions for IDPs has been growing. UNHCR's main focus in the south−east will be to be prepared for the potential return of refugees from Thailand; however at the end of 2013, conditions are not yet conducive for return. The Ofice will monitor spontaneous returns and continue to prepare for eventual returns, in consultation with the Myanmar authorities and with UNHCR Thailand, which maintains contact with the Thai authorities and refugees along the border. An estimated 128,000 refugees live in temporary sites along the Thai−Myanmar border.
---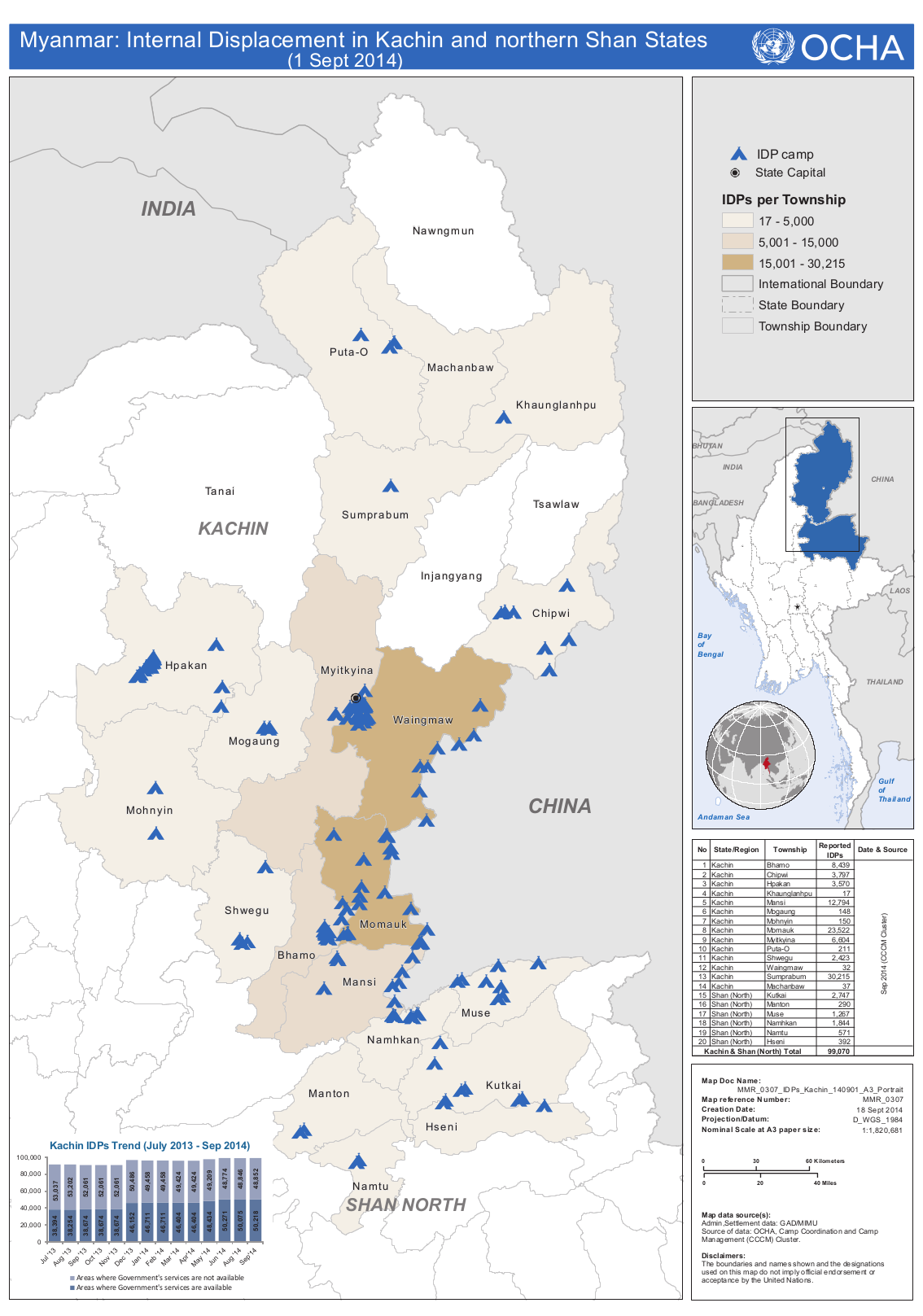 Resource: kachin and shan idp camps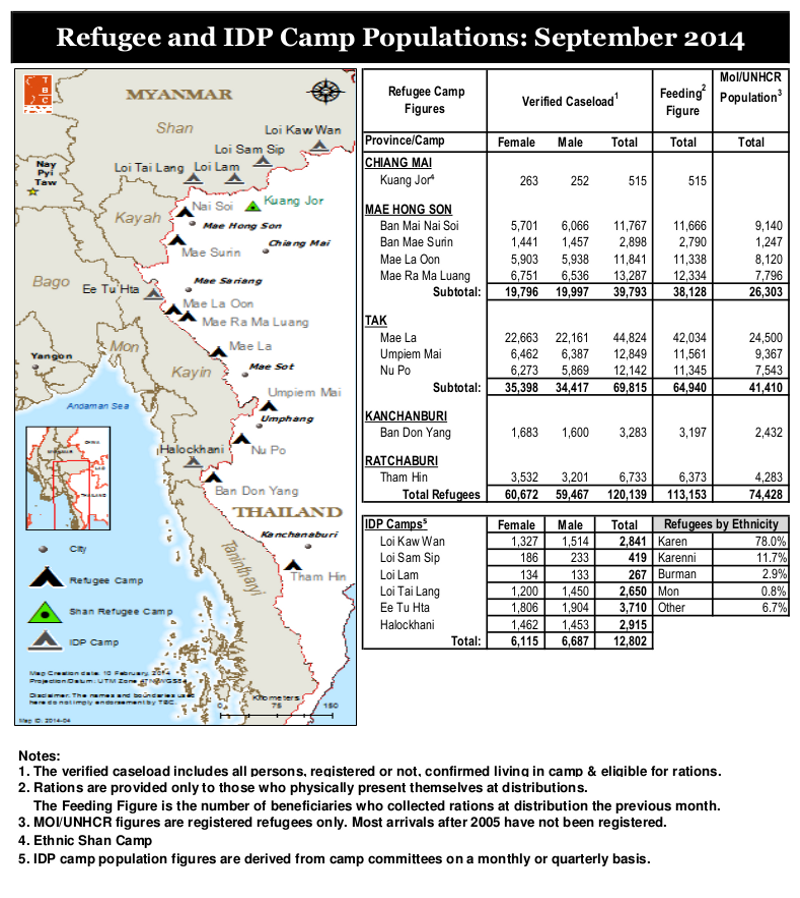 Resource: Refugee and IDPs camp population
Myanmar Refugee and IDP camps: 2013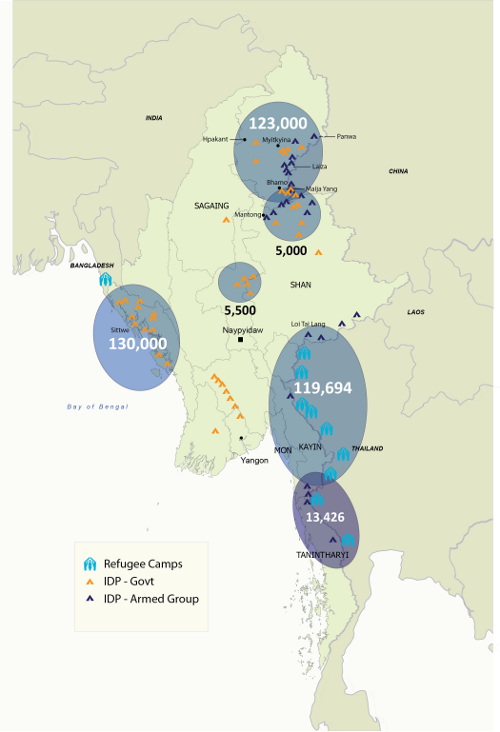 IDPs inside Myanmar and UNHCR recognised refugees abroad
No

Area

Refugees/IDPs

1

Kachin state

123,000 (Myanmar Govt. 2013)




100,000 (OCHA, Nov. 2013)




107,000 (KIO)




120,000 (KWAT)

2

Northern Shan state

5,000 (PWO, Dec 2013)

3

Southeast Myanmar




(Thai-Burma border)

IDPs: 13,426 (TBC, Dec 2013)




400,000 IDPs (OCHA, Nov. 2013)

4

Meiktila

5,000 (OCHA, Nov. 2013)

5

Rakhine state

130,000 (Myanmar Border Affairs Ministry, January 2014)




143,000 (OCHA, Nov. 2013)

6

Bangladesh

30,000 UNHCR registered




estimated 200,000 unregistered

7

India

8000 UNHCR registered




estimated 100,000 unregistered

8

Malaysia

95,380 UNHCR registered

9

Thailand

119,694 (TBC)
Ongoing armed clashes and communal violence have continued to create new IDPs and prevented the return of those displaced from previous years.
Rakhine state: OCHA reported there are 179,000 in need of humanitarian assistance, 143,000 internally displaced 103,000 in temporary shelters. The border affairs ministry however reported there are 130,000 IDPs and had so far provided basic shelter for 117,144 refugees, 110,000 Muslim and 6,000 Buddhist Rakhine. Over 19,000 Muslim and 1,000 Rakhine IDP's are still in need of shelter.1 In the last year, the anti-UN/INGO sentiment in Rakhine state has become increasingly prevalent and more openly expressed. Threats to humanitarian staff and aid operations are resulting in an extremely difficult environment for ongoing response activities to assist vulnerable and displaced people.2 Two violent incidents occurred on November 2 near Sin Tat Maw camp for IDPs in Pauk Taw Township, Rakhine State, which resulted in four people killed and at least three seriously injured. These incidents were followed by a protest by the local community at Sittwe hospital as false rumours spread that NGOs only assisted Muslims in the wake of the violence. Many Rakhine muslims are still taking the risky boat ride with hopes to immigrate to Thailand, Malaysia and Indonesia. Reports suggest that 24,000 people left on boats from Myanmar and Bangladesh in the first eight months of 2013, and UNHCR sources said more than 1,500 people boarded boats in northern Rakhine State over the first week of November. From interviews done with people who have made the journey, they seem to be driven by serious protection concerns stemming from violence, ethnic conflict, instability, discrimination, and a lack of citizenship rights. Furthermore, continued restriction of movement on IDPs and surrounding communities are preventing them from resuming livelihood activities or from accessing markets.1
Meiktila: 5,400 IDPs remain in five camps in Meikhtila town and Yin Daw in Mandalay State (from the original 8,441 in seven camps in April 2013).2 A resettlement committee composed of the regional Government, local authorities, private donors and IDP representatives has been formed and has submitted a proposal to the Chief Minister of Mandalay. The resettlement plan is now approved and implementation has started, with construction beginning in January 2014 and projected to finish in April 2014.
Kachin and Northern Shan State: Numbers continue to steadily increase with the ongoing violence. According to KIO spokesman La Nan, over 100,000 IDPs are living in the camps under control of KIO area while there are more than 7,000 IDPs living in 21 government controlled camps in Waingmaw and Myitkyina area.3 Meanwhile KWAT claims there are over 120,000 IDPs in Kachin state.4 There are 67 IDPs camps in the KIO area with over 78,000 IDPs living in those camps. Currently, there are about 170 battalions of government troops stationed and patrolling in Kachin state. Some IDPs who do not go the IDP camps also seek refuge in churches. According to government figures, there are nearly 43,000 displaced people living in 106 camps under state control, and more than 80,000 living in KIA-controlled camps.5 Access for the UN and international organisations to the IDPs in the areas beyond Government control has improved but remains limited. Local NGOs have been providing relief assistance for IDPs in these areas.
Over 5,000 in total have been staying in ten IDP camps in northern Shan state – mainly from clashes between the TNLA, KIA and SSPP. These nine IDP camps were established in 2013, such as four camps in Manton township, two camps each in Kutkai and Nam Kham townships and one camp in Tangyang township in northern Shan state. Poe Ngeal of PWO said in September there are at least 2,000 IDPs from Palaung communities living in 5 basic camps in northern Shan state near Kachin state – an increase from 1190+ in three camps last year.1
The UNHCR has 415,373 recognised but not necessarily verified as refugees from Myanmar, 77,240 of which reside in UNHCR administered camps on the Thai side of the border and 95,380 registered in Malaysia (28,000 are Muslim-ethnic Rohingyas). The estimated number of registered and unregistered refugees in India is 8000 and 100,000, while in Bangladesh numbers were 30,000 and 200,000. Plans to repatriate them have been ongoing since reforms in 2011, but surveys have found that conditions are not yet conducive. According to TBC's updated 2013 population figures for the refugee camps on the Thai-Burmese border show that the net population decreased 9,044 or 7.1 percent in 2013. The total population living in the nine camps was 119,156 at the end of December 2013, compared to 128,200 at the end of 2012. TBC's data shows that of the 4,389 people who did leave the camps to return to Myanmar, 70 percent of all departures include just one or two people from a household, while the rest of the household remains in the camps.