Negative implications: Domestic and Regional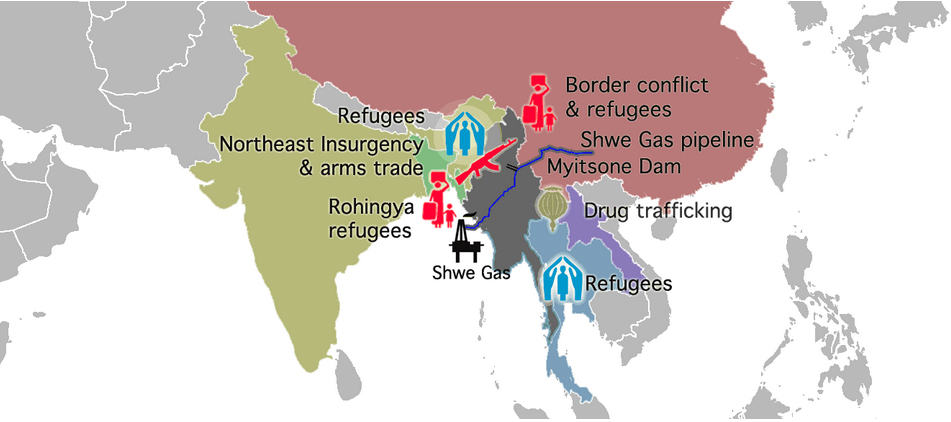 Threatens overall political developments and process

Hinders healthy and rapid economic development

Deters foreign investment

Threatens regional security
Threatens overall political developments and process
The ongoing conflict in Kachin state and northern Shan state threatens the ceasefires signed with other armed ethnic groups. It also reduces confidence in the government's sincerity in solving the nationalities problem.
The DKBA-5 has threatened to nullify its ceasefire if the government does not stop its offensive against the KIA (Jan. 4, 2013). UNFC members (including KNU, KNPP, SSA-N, CNF, NMSP and PNLO) made a statement blaming the government for causing the conflict in Kachin state and called for an immediate stop of government offensives (Jan.1, 2013). SSPP/SSA released a statement along with the UWSA and NDAA saying that they would revise their ceasefire agreements if the conflict continues (Jan.10, 2013).
It is likely that a breakdown of the ceasefires and resumption of conflict with other armed groups would reverse the country back to a military state. According to the 2008 Constitution, armed forces can take over the government during a state of emergency. The army still remains the most powerful institution as the National Defense and Security Council (NDSC) and army commander-in-chief seem to be above the government and the president. For instance, two presidential orders issued by President Thein Sein to stop offensives against the KIA in Kachin and Shan states, in December, 2011 and Dec.19, 2012, were ignored by the Myanmar military.
​Hinders healthy and rapid economic development
The long standing conflict has had severe repercussions on the country's economic and political situation; before military rule in 1962 Myanmar was one of the richest countries in Asia, some say it was the richest in Southeast Asia and there were even those who claim it was the richest in Asia.
Today the government continues to spend a large proportion of the national budget on defense. In 2011, according to reports in the state-run Government Gazette in March, 2011 the military expenditure of MMK1.8 trillion (USD 2.04 billion) represents around 23.6% of total national outlay, making defense the largest single recipient of government funds. This spending is estimated to amount to 5-10% of Myanmar's GDP.
Minister of Finance and Revenue, U Hla Tun announced on Jan.31, 2012, the military budget would decrease to 14.4% in the 2012-2013 budget, but still significantly higher than education 6.5% (increased from 3.7% in 2011) and health 3.4% (Increased from 1.1% in 2011). However in real monetary terms the total military budget actually went up by 57% after factoring in a 63% increase in the total government budget for this year. As the spending in the previous year was 7.9 trillion kyat in the previous year and 13 trillion kyat for 2012-2013, the proportion for the military budget for 2012-2013 will hence be 1.9 trillion kyat, or about US$2.3 billion according to the widely used black market floating exchange rate.
Deters foreign investment
Disruption of current projects deters foreign investors from Myanmar despite the immense potential as the "last frontier" and the rich natural resources the country enjoys. Most of these natural resources are located in ethnic regions and several mega projects, such as gas pipelines, industrial zones, Dawei Mega project, have already started in these areas. At present armed conflicts and communal violence in ethnic regions are already hurting these foreign development project sites. The SSPP/SSA, KIA and TNLA have been clashing with the Myanmar army in northern Shan state where the Shwe Gas pipeline is being built. The pipeline will connect Yunnan province in China to Kyaukphyu in Rakhine state, Myanmar.
​Threatens regional security​
The conflict in Kachin state has caused great concern for China after 3 bombs landed in their territory following a Myanmar military air raid on KIO's Laiza headquarters on Dec. 30, 2012. Another bomb landed in China on Jan. 15, 2013. It has been reported that China has been sending troops to its border with Myanmar to boost security. The ongoing conflict is also affecting India as its own insurgents continue to launch attacks from bases inside Myanmar. In the past Thailand has also suffered from conflicts waged along its borders. The flow of refugees from across the border has been an added burden for Thai border authorities.
The religious communal violence between Muslims and Buddhists in Rakhine state has spread to other countries in the region, e.g. Buddhist temples attacked and burnt in Bangladesh, protests in Indonesia, Malaysia, Thailand and India. Several radical Islamic groups have also made threats to attack Myanmar to avenge crimes against Muslims in Rakhine state: these groups include the Pakistani Taliban, Afghan Taliban and Hezbollah.
Increasing drug production and trade as a consequence of national insecurity has given rise to cross border crime for Myanmar's neighbors. Organized crime remains rampant in the Golden Triangle area between Thai-Myanmar-Sino-Laos border regions. The recent case of the drug lord Naw Kham's murder of Chinese sailors is one recent example.